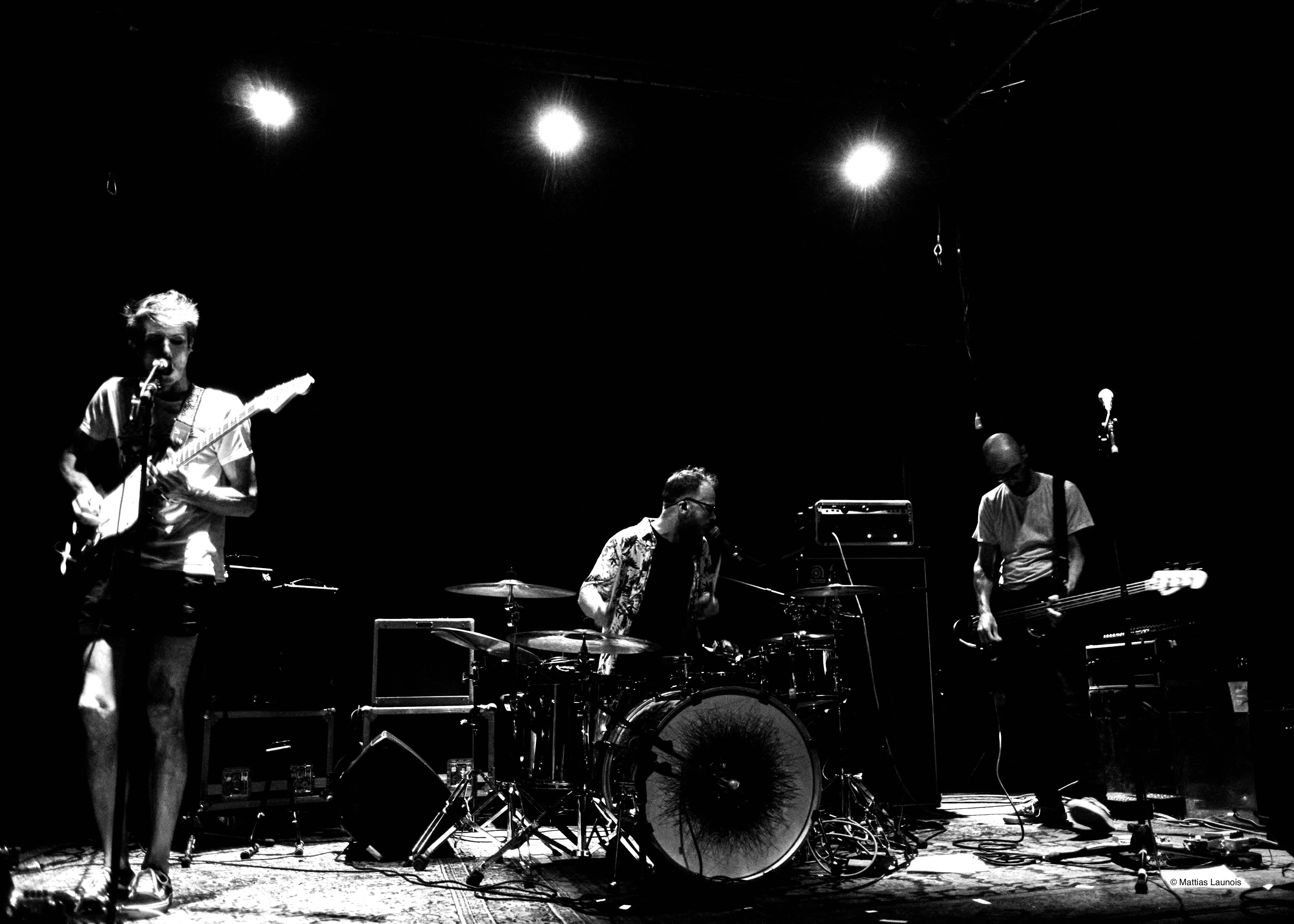 Post-punk from Brussels, Belgium
"The steel, the sweat and the cold."
"A heroic ride full of overweighted synth basses and neck breakers snares." The Drone
"Toxic and sinuous [...] When it comes to brawling and back stabbing Belgium is where this is happening." Noisey Vice
"Blue-colar worthy heirs from Tatcher's era, it's live that they best expresse themselves, just like unionists haranguing the crowd" TSUGI Magazine
LP (2023)
To be announced...
Everyday's Death & Resurrection Show EP (2017)
Le Turc Mécanique / Casbah Records
"Il aura fallu plus de deux ans à EMPEREUR pour achever son retour après le tétanisant 7" She Was / While Puritans. Le quatuor belge a goûté à tout : les tournées à avaler autant de bitume que de bières chaudes, les changements de line up aux moments inopportuns, les carrefours créatifs et tout ce qui s'en suit. Mais on n'aura pas patienté pour rien : si elles ont choisi de concentrer leur frappe en 4 morceaux, ça n'a pas empêchés les quatre panthères bruxelloises de viser un rock total.
Le post-punk tendu reste la colonne vertébrale, mais celui-ci vient se mâtiner ici de relents psychédélique, là-bas d'une guitare shoegaze, d'accents orientaux et d'une nouvelle voix, que certains affilieront sûrement à un Morrissey sous PCP. Là où d'autres se vautrent dans le revivalisme le plus éhonté, les jeunes premiers du punk froid ne relâchent pas la pression et livrent un EP qui contient bien plus de choses que pas mal de longs formats de la concurrence."
She Was/While Puritans 7" (2015)
Le Turc Mécanique
"Belgium's best kept secret is the work of youths who've devoted their existence to hurling their hostility over a backdrop of post-punk despair. Strong like the elephant, clever like the monkey, EMPEREUR have snatched the crown from the pope's hands, henceforth joining the the royal family that dominates the Belgian rock scene."
2022

12/05 Brussels Le Chaff + In Jane (be)
11/23 Paris Supersonic + Dion Lunadon (usa) + Dead Myth (fr)
11/11 Ghent Kinky Star
06/18 Charleroi Le Vecteur + Avalanche Kaito (be) + CERE (be)

2021

03/12 Brussels Le Barboteur

2019

10/25 Paris Petit Bain + A Certain Ratio (uk)
10/17 Brussels LaVallée + Yoko Syndrome (be)
03/23 Brussels The Queen's + Les Pandores (be) + Lesley (be)
03/22 Paris Supersonic + Peter Hook (DJ set) (uk) + Throw Down Bones (it) + SeRvo (fr)

2018

05/10 Amiens Accueil Froid Nuke + Mauvais Geste (fr) + Satellite (fr)
04/07 Liège Kultura + Vox Low (fr)
04/06 Paris Supersonic Whispering Sons (be) + It It Anita (be) + Le Prince Harry (be) + The Guru Guru (be)

2017

10/19 Brussels Le Brass (Tripartite) + P.A.N.T.H.E.R (be) + Turquoise (be)
06/03 Nantes Lieu Unique (Pêle-Mêle) + Voyou (fr) + Mou (fr)
06/02 Angers T'es Rock Coco + Doggerland (fr)
06/01 Grenoble La Bobine + Total Victory (uk)
05/30 Beauregard Le Presbytère + François Virot (fr)
05/28 Castres L'Abri
05/27 Toulouse Festival Discipline @ Connexion Live + The KVB (uk) + RA (swe)
05/26 Paris Supersonic + Soviet Soviet (it) + Dead (fr) + Scaffolder (fr)
04/29 Brussels Le Studio
04/01 Brussels Atelier 210 (Goûte Mes Disques) + Autobahn (uk) + Rendez Vous (fr)

2016

09/04 Paris La Station (Le Turc Mécanique Festival) + Les Hôpitaux (fr) + Hystérie (fr)
07/16 Ghent Kinky Star + Luminance (be)
06/24 Paris Petit Bain (Labo Pop Night) + Mondkopf (fr) + Rendez Vous (fr) + Lonely Walk (fr) + Perturbator (fr) + Volcan (fr)
06/18 Provin Astuce Exotique Festival + Usé (fr) + Tropical Horses (fr)
04/14 Brussels Madame Moustache (Gonzaï Night) + Marietta (fr)
03/24 Antwerp Trix + Whispering Sons (be)

2015

12/12 Paris Olympic Café (Collectif Mu) + Räpe Blossoms (be) + Charnier (be)
12/01 Brussels Botanique + Wire (uk)
11/28 Mons Alhambra (Rock Thrills Festival) + Midas Fall (uk) + La Jungle (be)
11/21 Marbehan Les Nuits Eclectiques + Alaska Gold Rush (be)
10/31 Paris Sale et Sauvage #4 + Frustration (fr) + Le Prince Harry (be)
07/17 Rennes Bar'Hic
07/15 Bordeaux Wunderbar
07/14 Castres Le 2000
07/13 Paris Le Buzz (the end of the Buzz)
07/11 Paris Le Buzz
06/24 Charleroi Rockerill (Les Apéros Indus) + The Guilt (swe)
06/19 Liège Fête de la Musique + Le Prince Harry (be)
04/24 Paris La Maroquinerie (Gonzaï Night) + Blurt (uk) + Patrick Vidal plays Marie et les Garçons (fr)
03/14 Paris L'Alimentation Générale + Judy (fr)
03/04 Brussels Botanique + Showstar (be)
02/23 Liège Péniche InsideOut
02/13 Paris L'International + Milan (fr)
01/31 Paris Le Cirque Electrique + Volcan (fr) + Tropical Horses (fr)

2014

11/12 Brussels VK + Esben & the Witch (uk)
10/25 Brussels Le Studio